In an increasingly busy modern age, keeping up to speed with your residential buildings latest news and updates can be quite the task. Luckily, AST London is equipped with an effective, contemporary solution! Residents of communal buildings can now discard the wasteful, cluttered papers stuck to the notice board and the traditional notice board itself to make room for a better solution: Digital Display Boards.
Digital display boards can be used in much the same way as their traditional counterparts, but with many added benefits. Check out the blog below to learn more about digital display boards, AST London and our security solutions.
Why You Should Consider Digital Display Boards
Where traditional notice boards are concerned, property managers will find themselves consuming much time and resources sitting and writing up, printing and distributing reams of paper to inform residents on meetings, changes going in within their property.
AST London offers a modern solution to this problem in the form of digital display boards, which negate the use for paper, printing, and manual distribution of notices.
Our unique digital display boards therefore replace outdated and unsightly traditional notice boards with an efficient, attractive alternative. These boards are vandal resistant and can have logos and contact details engraved on them on request, for added personalisation.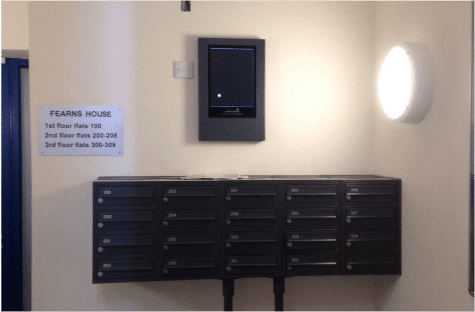 Residents can expect to receive updates and notices quickly, accurately and remotely, and this digital method is proven to receive more user attention. Your building's communal area can be improved aesthetically with the addition of a digital notice board, as wasteful and cluttered papers are removed and replaced with colourful digital messages full of movement.
The AST London Difference: Digital Display Boards
As a long-running, respected name in the safety and security industry, AST London aims to provide only the highest quality, effective security solutions to our clients. With our digital display boards, news and information can be easily uploaded by building managers and will be displayed to residents within minutes, allowing for timeous passage of important information.
The digital display boards are a cost-effective communication solution as they require no transport costs, no labour costs and no printing costs!
Furthermore, the building managers can update digital information for free and as many times as they need to throughout the lifetime of the display board itself. The communal area of the building will look neater overall and will be more vandal resistant with a digital addition.
The AST London Solution
Property managers already have their hands full with trying to communicate effectively with their residents. Cut outdated tasks out and save time, effort and money with digital display boards.
AST London are proud to say that we offer only the best security solutions to our cherished clients. If you would like to learn more about AST London's digital display boards, you can head to this link. The AST London digital display board user guide can be found here. For regularly posted blogs about home security, maintenance, tips and tricks, we suggest staying tuned to our blog page!
To discuss your residential and commercial security needs, contact us today and we will get back to you in a flash!